---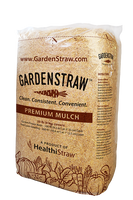 ****Ce sont des articles de commande spéciale. Les commandes doivent être passées le Jeudi pour une livraison le week-end suivant****
****Livraison uniquement à Gatineau et Ottawa. Nous n'expédions pas ce produit. Pour plus d'informations, veuillez nous appeler si vous souhaitez que ces produits soient expédiés.****
Qu'il s'agisse d'un passe-temps, d'une passion ou d'un style de vie, une génération de pouces verts se retrouve dans leurs jardins, cherchant à cultiver et à cultiver leurs plantes. Et les jardiniers sont poussés à trouver des solutions naturelles et durables pour nos plantes et nous-mêmes.

Cela étant dit, le jardinage n'est pas facile. C'est une bataille constante avec les éléments. Qu'il s'agisse de trop de soleil ou pas assez, d'un arrosage constant ou d'un désherbage sans fin, les plantes ont besoin d'un certain équilibre délicat de soins pour prospérer.

C'est là que GardenStraw entre en jeu: un paillis de jardin propre, uniforme et pratique fabriqué à partir de paille de blé 100% de qualité supérieure qui réduit l'arrosage, le désherbage et les dommages causés à vos plantes.

GardenStraw est traité à la longueur et à la forme idéales qui favorisent une vie végétale saine. Grâce à notre processus rigoureux et innovant, GardenStraw est pratiquement sans graines, sans poussière, filtré pour toutes les impuretés, telles que la saleté et les métaux.
Jardin et plates-bandes / conteneurs
Réduit l'arrosage jusqu'à 50%
Empêche la plupart des graines de mauvaises herbes de germer
Garde le sol frais et humide
Protège les plantes des éclaboussures de boue de la pluie
Réduit le risque de brûlure de la tomate et réduit le nombre de doryphores de la pomme de terre
Vos chaussures restent propres; doux pour marcher pieds nus
La douceur agit comme un coussin naturel pour les genoux et les articulations
Mélanger dans des sols argileux durs pour améliorer la fertilité du sol
Nouveau semis de pelouse
Réduit la perte de graines; les graines restent mieux en place
Minimise la germination des graines de mauvaises herbes
Garde le sol frais et humide
Aucun retrait nécessaire
Le compostage
Un excellent matériau de carbone pour votre bac à compost
L'ajout au seau de compost intérieur réduit les odeurs
Fait un excellent compost à ajouter au jardin
//
****These are special order items. Orders must be placed by Thursday for delivery the weekend after****
****Delivery only to Gatineau and Ottawa. We do not ship this product. For more info please call us if you would like this products shipped.****
Whether it's a hobby, a passion, or a lifestyle, a generation of green thumbs find themselves in their gardens, looking to grow and nurture their plants. And there is a push among gardeners to find natural, sustainable solutions for our plants and ourselves.
That being said, gardening is not easy. It is a constant battle with the elements. From getting too much sun to not enough, from constant watering to endless weeding, plants need a certain delicate balance of care to thrive. 
That's where GardenStraw comes in: clean, consistent and convenient garden mulch made from 100% premium wheat straw that reduces watering, weeding, and damage to your plants.
GardenStraw is processed to the ideal length and form that encourages healthy plant life. Through our rigorous, innovative process, GardenStraw is virtually seed-free, dust-free, filtered for any impurities, such as dirt and metals.
Garden & Flower Beds/Containers
Reduce watering by up to 50%
Prevents most weed seed from germinating
Keeps soil cool and moist
Shields plants from mud splatter from rain
Reduces risk of tomato blight and reduces the number of potato beetles
Your shoes stay clean; soft to walk on bare feet
Softness acts as natural cushion for knees and joints
Mix into hard clay soils to improve soil fertility
New Lawn Seeding
Reduces seed loss; seeds stay in place better
Minimizes weed seed germination
Keeps soil cool and moist
No removal necessary
Composting
An excellent carbon material for your compost bin
Adding to indoor compost pail reduces odors
Makes great compost to add into garden