---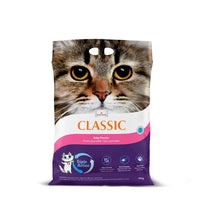 Intersand litière agglomérante premium au poudre de bébé

La gamme Classic est la première litière qu'Intersand a commercialisée il y a déjà 20 ans!
Composée d'argile de qualité supérieure 100 % naturelle 
Contrôle efficace des odeurs désagréables, avec ou sans fragrance
Sans danger pour les voies respiratoires des humains et des chats
Entretien quotidien facile et usage économique
Fragrances sans aucun allergène
Testée par des vétérinaires
Fabriquée au Canada

Intersand a mis votre bien-être et celui de votre chat au cœur de leurs préoccupations. Voilà pourquoi ils ont créé une formule qui contrôle des odeurs et qui n'est pas invasive. Notamment, grâce à la présence de petits granules bleus faits de minéraux naturels, ils vous offrent une solution sans substances chimiques volatiles pour dissimuler les odeurs désagréables. Et pour rendre le tout encore plus plaisant, ils ont créé leur litière en différentes fragrances douces et subtiles. Vous bénéficiez d'une odeur agréable sans que le parfum envahisse l'espace de votre chat.
//
Intersand ultra premium multi-cat litter in baby powder
Classic litter was the first kind that Intersand sold 20 years ago!
Made of high-quality 100% natural clay 
Effective control of unpleasant odours, with or without fragrance
Safe for the respiratory tracts of humans and cats
Easy daily maintenance and good value
Allergen-free fragrances
Tested by veterinarians
Made in Canada
Intersand's biggest focus is your well-being and that of your cats. Classic cat litter is a non-invasive odour control formula. These small blue granules made of natural minerals help to hide unpleasant odours without volatile chemicals. Classic cat litter comes in different gentle and subtle fragrances. You benefit from a pleasant smell without the perfume invading your cat's space.