---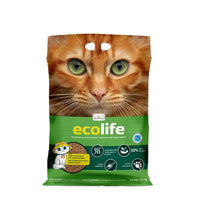 Intersand litière agglomérante écologique ultra premium
Cette litière compostable* ultra premium contribue de façon durable et responsable à l'environnement de notre planète :
Faite à partir d'un mélange spécial de maïs et de blé
Contrôle supérieur des odeurs désagréables
Rendement comparable à celui de la litière d'argile
Légère et facile à manipuler 
Testée par des vétérinaires
Fabriquée au Canada 
Produit certifié USDA 100 % biologique par USDA

* Il n'est pas recommandé de mettre les matières fécales de votre chat dans le compost, principalement à cause des microbes néfastes qu'y pourraient s'y développer. Informez-vous auprès de votre ville sur les différentes réglementations concernant l'élimination des excréments d'animaux dans le compost.
//
Intersand ultra premium earth-friendly clumping litter
This ultra premium compostable* litter contributes in a sustainable and responsible way to the environment of our planet:
Made from a special blend of corn and wheat
Superior control of unpleasant odours
Comparable effectiveness to clay litter
Lightweight and easy to handle 
Tested by veterinarians
Made in Canada 
USDA certified 100% bio-based product
* It is not recommended to compost your cat's feces, mainly because of the harmful microbes that could develop there. Ask your city what regulations there are regarding the disposal of animal excrement in compost.