---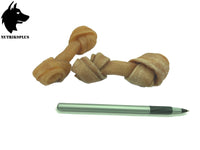 Cet os de cuir brut noué au buffle de 4 po est une excellente gâterie à mâcher naturelle, et excellente pour les petits chiens. Pas de colorants ou de saveurs additionels ajoutés.

Il est recommandé de surveiller votre chien lorsqu'il mange des gâteries. Assurez-vous que de l'eau potable fraîche est disponible. Jetez toujours les petits morceaux.
//
This 4″ knotted buffalo rawhide is a great natural chew and perfect for small dogs. This is a low-odour chew with no added colouring or flavours.
It is recommended that your dog be supervised when chewing dog treats or chews. Ensure fresh drinking water is available. Always discard any small pieces.