---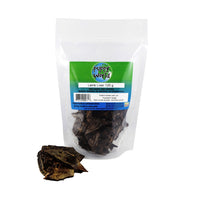 Foie d'agneau 120 g
Ces petites bouchées de foie sont une excellente collation et elles sont parfaites pour la formation ou comme récompense. Le foie d'agneau est riche en nutriments, comme le fer, et il s'agit d'une bonne source de protéines.
Humidité : 4,9 % | Protéines : 69,9 % | Matières grasses brutes : 11,4 % | Fibres brutes : 0,08 %
Lamb liver 120 g

These bite-size pieces make a great snack, and they're also great training or reward treats. Lamb liver is rich in nutrients, such as iron, and is a good source of protein.
​Moisture: 4.9%  |  Protein: 69.9%  |  Crude fat: 11.4%  |  Crude fibre: 0.08%