---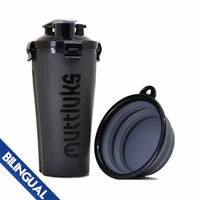 Bouteille MuTTravel durable et pratique pour le cabot en déplacement !

Comprend une bouteille de nourriture et d'eau 2 en 1 avec couvercle étanche. Comprend un bol amovible, pliable et portable.
//
Durable and convenient MuTTravel Bottle for the mutt on the go!
Features 2-in1 Food and Water bottle with leakproof lid. Includes removable, collapsible, portable bowl.