---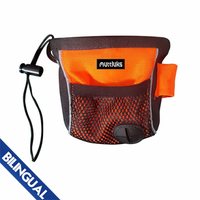 Sac à friandises MuTTravel robuste et polyvalent pour le cabot en déplacement !

Doté d'une attache de ceinture pratique et rapide pour un entraînement mains libres. Accents réfléchissants, doublure imperméable facile à nettoyer, fermeture à cordon. Solide et autoportant avec distributeur de sacs à caca intégré.
//
Rugged and versatile MuTTravel Treat Bag for the mutt on the go!
Featuring convenient and quick belt fastener for hands free training. Reflective accents, wipe-clean waterproof liner, drawstring closure. Strong and self-supporting with built-in poop bag dispenser.