---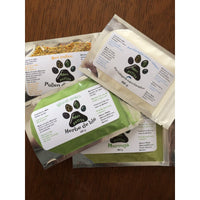 Ensemble d'essai de 4 suppléments naturels.
Collagène marin
Herbe de blé
Moringa
Pollen d'abeilles 
Collagène marin
Améliore la fermeté, l'élasticité et l'hydratation de la peau.

Soutient la croissance du cartilage dans les articulations et les os chez les jeunes animaux
Augmente l'épaisseur et la force des poils.
Améliore la santé osseuse globale.
Il régénère la masse musculaire perdue et améliore la circulation en aidant le processus de guérison.
Améliore la santé du microbiome intestinal.
Moringa
Les bases du Moringa
10 vitamines essentielles

11 minéraux essentiels
9 acides aminés essentiels stimulant le système immunitaire
36 puissants nutriments naturels anti-inflammatoires
46 anti-oxydants naturels puissants
Acides gras oméga 3 et oméga 6
A des propriétés
antidiabétiques

anticancéreuses

antioxydantes
l améliore la santé du cerveau

prévient les dysfonctions rénales

diminue l'acidité gastrique

prévient les ulcères

renforce le système immunitaire

régularise la pression sanguine

favorise la relaxation musculaire.
L'herbe de blé
Elle contient 92 des 116 minéraux également 18 acides aminés, dont 8, essentiels.  Ce sont surtout les les vitamines qui en font un excellent choix.

Vitamine B : antistress par excellence.

Vitamine E : antioxydant, protecteur du cœur.
Ses minéraux sous forme d'oligo-éléments :
Fer : Formation de globules rouges et transport de l'oxygène vers les poumons.

Sodium : Digestion et élimination.
Potassium: Poids équilibré, raffermi la peau (autant que citrons, oranges, raisins, pommes)
Magn

é

sium: Bonne fonction des muscles. (Contient autant que brocoli, choux Bruxelles, betteraves)
Sans compter le sélénium, le zinc et autres.
Ses acides aminés :
Lysine : Facteur anti-âge

Isoleucine: Croissance, balance protéinique chez les adultes
Leucine : Garde alerte et éveillé.
Tryptophane : Enrichi le sang, aide à une peau et des cheveux sains.
Phénylalanine : Aide la glande thyroïde pour le calme émotionnel.
Thremine : Stimule la digestion.
Valine : Active le cerveau, coordination des muscles, calme les nerfs.
M

é

thionine : Nettoie et régénère les reins et le foie.
Pollen d'abeilles
 *****ne pas donner avant l'âge 1 an *****
Dans les faits, vous y trouverez :

20 différents types d'acides aminés : arginine, histidine, leucine, isoleucine, lysine, méthionine, phénylalanine, thréonine, tryptophane, valine, etc.

5 % de minéraux : calcium, chlore, cuivre, fer, magnésium, manganèse, phosphore, potassium, silicium, soufre, sélénium, etc.
Des vitamines : B1, B2, B3, B5, B6, B9, C, et de la provitamine A.
Des glucides.
5 à 8 ferments lactiques.
3 levures.
Des enzymes, coenzymes, stérols, substances bactériostatiques et de croissance, pigments, arômes et huiles volatiles.
Énergisant naturel parfait pour les animaux performants
Renforce le système immunitaire
Équilibre le système digestif
réduire, voire traiter les allergies.
Protéger les voies respiratoires
Améliore le système cardio-vasculaire

 
Chaque échantillons contient 25g de suppléments. Pour un animal de 50 lbs, l'échantillon durera 5 jours chaque.
//
Trial set of 4 natural supplements.
Marine collagen
Wheat grass
Moringa
Bee pollen
Marine collagen
Improves firmness, elasticity and hydration of the skin.
Supports the growth of cartilage in joints and bones in young animals
Increases the thickness and strength of the hairs.
Improves overall bone health.
It regenerates lost muscle mass and improves circulation helping the healing process.
Improves the health of the gut microbiome.
Moringa

10 essential vitamins
11 essential minerals
9 essential amino acids that boost the immune system
36 powerful natural anti-inflammatory nutrients
46 powerful natural anti-oxidants
Omega 3 and Omega 6 fatty acids
Has properties

antidiabetics
anticancer
antioxidants
l improves brain health
prevents kidney dysfunction
decreases gastric acidity
prevents ulcers
strengthens the immune system
regulates blood pressure
promotes muscle relaxation.
Wheatgrass

It contains 92 of the 116 minerals also 18 amino acids, including 8 essential. It is especially the vitamins that make it an excellent choice.


Vitamin B: anti-stress par excellence.
Vitamin E: antioxidant, protective of the heart.
Its minerals in the form of trace elements:
Iron: Formation of red blood cells and transport of oxygen to the lungs.
Sodium: Digestion and elimination.
Potassium: Balanced weight, firms the skin (as much as lemons, oranges, grapes, apples)
Magnesium: Good muscle function. (Contains as much as broccoli, Brussels sprouts, beets)
Not to mention selenium, zinc and others.

Its amino acids:

Lysine: Anti-aging factor
Isoleucine: Growth, protein balance in adults
Leucine: Keeps alert and awake.
Tryptophan: Enriches the blood, helps in healthy skin and hair.
Phenylalanine: Helps the thyroid gland for emotional calm.
Thremine: Stimulates digestion.
Valine: Activates the brain, coordinates the muscles, calms the nerves.
Methionine: Cleanses and regenerates the kidneys and liver.
Bee pollen

***** do not give before the age of 1 *****

In fact, you will find:

20 different types of amino acids: arginine, histidine, leucine, isoleucine, lysine, methionine, phenylalanine, threonine, tryptophan, valine, etc.
5% of minerals: calcium, chlorine, copper, iron, magnesium, manganese, phosphorus, potassium, silicon, sulfur, selenium, etc.
Vitamins: B1, B2, B3, B5, B6, B9, C, and provitamin A.
Carbohydrates.
5 to 8 lactic ferments.
3 yeasts.
Enzymes, coenzymes, sterols, bacteriostatic and growth substances, pigments, flavors and volatile oils.
Perfect natural energizer for high performance animals
Strengthens the immune system
Balances the digestive system
Reduce or even treat allergies.
Protect the respiratory tract
Improves the cardiovascular system
Each sample contains 25g of supplements. For a 50 lb animal, the sample will last 5 days each.